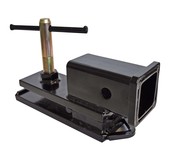 Bucket Receiver Hitch
Black Powder Coated Finish
Price: $120.00 USD
Shipping: $35.00 USD in the Continental US

Note: Shipment of product upon sale may vary between 3-10 days.
Please call our 800# if you need a specific product ship date.
Key Specs
Pulling Capacity: 2,000 Lbs
Will accept up to a 6" wide cutting edge by 1" thick
Receives any 2" Ball Hitch
Safety Chain Hook
Total Weight: 15 Lbs
Overall Dimensions: 11.5" long by 3" wide by 4.75 tall without pin
Made from 1" by 3" and 5/8" by 3" flat bar for strength

Clamps to your bucket with a 7/8" diameter threaded harden pin
with a 7/16" solid sliding steel handle that is 6" long
This product is for off-road use only
Additional questions? Call us Toll-Free, 24 hours a day at 1-800-210-9955 or
send us an email from our Contact Us page.
Summit Fabrications, LLC. Refund Policy.
We accept credit card orders Online, by Telephone, Fax or Mail.