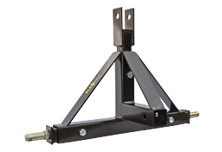 Model FPHS-E
Expandable Hitch
Fits Category 1, 2 & 3 Tractors
Expands upward and outward to fit tractors with arms that are wider than 26"
Black Powder Coated Finish
Price: $279.00 USD
Shipping: $55.00 in the Continental US
Note: Shipment of product upon sale may vary between 3-10 days.
Please call our 800# if you need a specific product ship date.
Key Specs
Expands upward and outward to accommodate tractor arms
Pulling Capacity: 10,000 Lbs
Shearing Capacity: 18,500 Lbs
Tongue Weight Capacity: 6,000 Lbs
Lower Pins: 7/8" x 5-1/4"
2-7/8" wide Pin
Bar is 24-1/2" Between Pins
Total Bar Length: 31-1/4"
Overall Dimensions: 24" x 18"


What's Included
3-Point Hitch Adapter
2 Lower Lift-Arm Pins
Three 5/8" x 3-1/2" grade 5 bolts with lock washers, nuts
This product is for off-road use only
Customer Review
Hitching up with the 3-pt is much nicer, and *unbelievably* quicker, than backing up the pickup and grinding on the hand jacks when a trailer needs to move. I just leave 'em down, and let the 3-point do the work....Still a happy camper.
—S. Griffith, Colorado