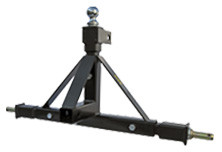 Model FPHS-SDEG
Expandable Super Duty Gooseneck Hitch
Fits 50+ HP Category 2 & 3 Tractors
Expands upward and outward to fit tractors with arms that are wider than 26"
Recommended for hauling those extra heavy loads
Black Powder Coated Finish

Price: $399.00 USD

Shipping: $55.00 in the Continental US
Note: Shipment of product upon sale may vary between 3-10 days.
Please call our 800# if you need a specific product ship date.
Key Specs
Expands upward and outward to accommodate tractor arms
Capability to haul a gooseneck trailer via a 2-5/16" ball that threads into top link insert.
Pulling Capacity: 18,000 Lbs
Shearing Capacity: 22,500 Lbs
Tongue Weight Capacity: 6,000 Lbs
Lower Lift-arm Pins: 7/8" x 5-1/4" x 1-1/4" thread shank
Bar is 33" Between Pins
Total Bar Length: 40"
Overall Body Dimension: 24" x 18"
What's Included
3-Point Hitch Adapter
Two Lower Lift-arm Pins
One 2-5/16" Ball With 1-1/4" Thread Shank (rated 10,000 Lbs)
Three 5/8" x 3-1/2" Grade 5 Bolt with lock washers, nuts
This product is for off-road use only
Customer Review
I plan on using my flex point for an application you may not have thought of. A few years ago, I bought a Warn Winch that slides into a receiver mounted under the front bumper of my Ford Explorer. This winch will pull 8000 lbs., so it's a real brute. Now I can use that same winch on the back of my old Ferguson tractor. I just have to run a power cable down to the area of my new FLEXpoint, and I'm all set. My tractor can now double as an inexpensive skidder. As a retired Quality Assurance Specialist for the Department of Defense, I'd just like to say you manufacture a quality product.
—F.L., New York
Additional questions? Call us Toll-Free, 24 hours a day at 1-800-210-9955 or send
us an email from our Contact Us Page.
Printable Sales Flyer.
Printable Order Form.
Summit Fabrications, LLC. Refund Policy.
We accept credit card orders Online, by Telephone, Fax or Mail.