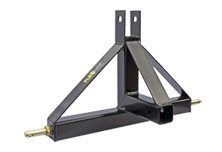 Model FPHS-1
Fits Category 0, 1 & 2 Tractors
Black Powder Coated Finish
Price: $199.00 USD

Shipping: $35.00 USD in the Continental US

Note: Shipment of product upon sale may vary between 3-10 days.
Please call our 800# if you need a specific product ship date.
We also sell the FPHS-1 Tractor Hitch in a model that can adapt to your Category 2 tractor for the same price of $199.00.
Please call 1-800-210-9955 to get the details.
Key Specs
Pulling Capacity: 10,000 Lbs
Shearing Capacity: 12,500 Lbs
Tongue Weight Capacity: 3,000 Lbs
Lower Pins: 7/8" x 5-1/4"
2-7/8" wide Pin
Bar is 24-1/2" between pins
Total Bar Length: 31-1/4"
Overall Dimensions: 24" x 18"

What's Included
3-Point Hitch Adapter
2 Lower Lift-Arm Pins


This product is for off-road use only
Customer Review
I love my Flexpoint. I fiddled around with horizontal drawbars for years before I learned about Flexpoint. What a nice product. Thanks, Summit.
–G. Grice, San Diego
Additional questions? Call us Toll-Free, 24 hours a day at 1-800-210-9955 or
send us an email from our Contact Us page.
Printable Sales Flyer.
Printable Order Form.
Summit Fabrications, LLC. Refund Policy.
We accept credit card orders Online, by Telephone, Fax or Mail.