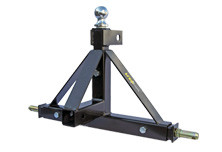 Model FPHS-EG
Expandable Gooseneck Hitch
Fits Category 1, 2 & 3 Tractors
Expands upward and outward to fit tractors with arms that are wider than 26"
Black Powder Coated Finish
Price: $299.00 USD

Shipping: $45.00 in the Continental US
Note: Shipment of product upon sale may vary between 3-10 days.
Please call our 800# if you need a specific product ship date.
Key Specs
Expands upward and outward to accommodate tractor arms
Capability to haul a gooseneck trailer via a 2-5/16" ball
that threads into top link insert
Pulling Capacity: 10,000 Lbs
Shearing Capacity: 18,500 Lbs
Tongue Weight Capacity: 6,000 Lbs
Overall Dimensions: 25-1/2" x 18" without Ball
Height Expands to 21" without Ball
Bar length is 26-1/2" inside of Pin
Expands up to 37-1/2" inside of Pin
What's Included
3-Point Hitch Adapter
One 2-5/16" Ball for Top Link
Two Category 2 Lift-Arm Pins
Three 5/8" x 3-1/2" Grade 5 bolts with lock washers, nut
This product is for off-road use only
Customer Review
I hate the thing!! It takes all the work and hassle out of hooking up things that I want to haul behind my tractor.
—Satisfied Maine Customer
Additional questions? Call us Toll-Free, 24 hours a day at 1-800-210-9955 or
send us an email from our Contact Us Page.
Printable Sales Flyer.
Printable Order Form.
Summit Fabrications, LLC. Refund Policy.
We accept credit card orders Online, by Telephone, Fax or Mail.
FLEXpoint® Gooseneck Trailer Hook-up Video